Our motivation here is to work on the most critical problems faced by the solar industry, particularly relevant to India. Solar cell and module manufacturing in India has faced many challenges. With ample support from MNRE, we have established a huge knowledgebase which can be accessed by industry or academia. NCPRE along with other academic, industrial and government partners is working on many collaboration projects to help the industry's growth and reach global level of excellence.
Technical Collaboration Projects ongoing at NCPRE
c-Si Cell Process Development
NCPRE has established a baseline process with 17.5 % efficiency. We can offer technical support in Cell Process Development. Any new or established player can test their process on our line. We can also assist with process optimization using our extensive cell characterization experience.
Cell Process Development
Wet Chemistry.

Diffusion Control.

Passivation & ARC.
Conductive Pastes
We are currently working with a chemical company on developing conductive paste which can help in improving metal contact and increase efficiency of cells. We are testing different compositions of silver paste to make the metal contact on solar cells. Using NCPRE's baseline process, the cells are screen printed with standard and new paste formulations. To test the quality of contact achieved, cells are measured in our characterization lab. We are also developing copper metallization, which is eventually expected to replace silver.
Process Optimization
Key Process Tools
Activities
Goal
Clean & Texturing (Wet Bench)
IPA Based with minimum usage
Non-IPA with additives.
Uniform nucleation
Reduce cost & increase throughput
Diffusion(Tube Furnace)
Doping Profile Management
In-line diffusion profile monitor
Single component non-acidic emitter etch-back process
Optimized profile High process uniformity & best electrical parameters
Elimination of surface contaminants and surface dead layer with phosphorous gettering
Passivation & ARC (PECVD, Edge Isolation)
Process optimization
Low surface recombination velocity
Low weighted average reflectance (%)
Metallization
Controlled metal (Ag & Al) screen printing
RTP Profile management
Control over metal printing and firing artefacts
Optimized screen design with less metal consumption
High throughput with a control over resistive losses
Enhancing cell Fill Factor
Power Loss Analysis
Power Loss Analysis is an important method of evaluating any solar cell technology. At NCPRE, we provide a customized Power Loss Analysis package for any Si cells using our high-precision equipment. We have developed an advanced technique where based upon Light and Dark IV curves, EQE (External Quantum Efficiency) Curves, and EL intensity images of solar cells we can quantify the power losses occurring due to different mechanisms. The analysis provides cell manufacturers with a Pareto of power loss coming from Resistive, Optical and Recombination losses so they can prioritize tasks for process improvement.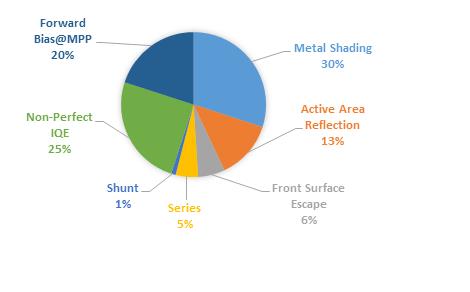 Cell characterization
NCPRE has a very well equipped Cell characterization Lab with several Scientists, Engineers and Students working on different projects.
| Objective | Tools |
| --- | --- |
| Reflectance, Transmittance | Spectrophotometer |
| Pyramids | Zeta 3D Profilometer |
| Si Surface images | SEM |
| Surface contaminant detection | EDX |
| Doping Uniformity | 4PP Sheet resistance map |
| Active dopant impurity profile measurement | ECV dopant profiler* |
| Bulk Lifetime | Sinton Lifetime tool |
| Defects, Cracks, Losses | PL and EL Imaging |
| Cell electrical parameters | Cell electrical parameters |
| Pseudo Fill Factor | SunVoc |
| Spectral Response | QE |
| Film Thickness | Ellipsometer* |
| Full Lifetime Map, Diffusion length map, IQE Map | LBIC setup* |
| Shunt Resistance Map | Lock-in Thermography (LiT)* |
| Power Loss Analysis | IV, EQE, EL and custom made s/w |
* Waiting for equipment
Module Lab
Solar module performance and reliability depends largely on the quality of the materials used in it. In order to establish a correlation between module performance and material properties, NCPRE will be working with industry partners to conduct Testing of Encapsulants, Backsheet and Glass. NCPRE can help module manufacturers in establishing best practices for material testing.
Testing of Encapsulants, Backsheet and Glass.
Optical Properties

Chemical Properties

Gel content, DSC

FTIR, SIMS

Mechanical Properties

Dielectric Strength

Water Resistance
Module Performance and Reliability
NCPRE has conducted All India Surveys of PV modules to study the power degradation and impact of various factors like climatic conditions technology and materials. We carry out performance testing of modules at the Lab as wells as at field site locations. We will also be working on correlating different power degradation signatures to visual defects, EL and IR images. NCPRE has also acquired environmental chambers for testing reliability of modules which are being extensively used by different partners for development work.
Performance Testing of Modules
Spire SPI-SUN 5600 SLP Blue - The PV module I-V measurement system can measure current-voltage (I-V) of module under both, dark and illuminated condition as per international standard

Sensovation Camera for EL (Electroluminescent images) of Solar Modules

Environmental chambers

Multi I-V Curve Tracer (Daystar)
System Integration
A stand-alone 250 VA battery integrated PV System suitable for rural application has been developed at NCPRE. The PV system is designed for low cost and high reliability using simple hardware structure. A hardware prototype is built and ready for commercialization.
NCPRE can offer methodology, equipment, help with data collection and analysis to find solution to problems faced by the industry and establish a path for improvement.